¡Prepárate para adentrarte en un mundo mágico y misterioso donde las brujas 🧙‍♀️ rondan, los fantasmas 👻 susurran y los murciélagos 🦇 bailan en la oscuridad! En este fascinante viaje lingüístico, exploraremos el encantador y enigmático vocabulario de Halloween en inglés.
Palabras llenas de hechizos y tradiciones, que nos transportan a un universo de calabazas 🎃 iluminadas, disfraces aterradores y noches de travesuras. ¿Estás listo para desvelar los secretos detrás de estas palabras embrujadas?
No se vale escapar por lo que deberás acompañarme hasta el final de esta aventura. Una que esta llena de sustos y sorpresas, mientras desentrañamos el misterio del vocabulario de Halloween en inglés.
• ¿Cuál es el significado de Halloween?
Antes de empezar nuestro listado con todo el vocabulario de Halloween en inglés, veamos cuál es su significado.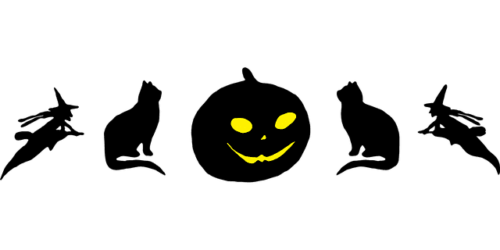 Halloween es una palabra derivada del inglés antiguo. Se origina de la frase «All Hallows' Eve«, que significa «Víspera del Día de Todos los Santos«. La palabra «hallow» proviene del antiguo inglés «halig», que significa «santo» o «consagrado». Por lo tanto, Halloween se refiere a la noche antes del Día de Todos los Santos, que se celebra el 1 de noviembre.
Por otro lado, la celebración moderna de Halloween implica disfraces, decoraciones temáticas de terror, juegos, historias de fantasmas y el famoso «truco o trato» (trick or treat), donde los niños van de puerta en puerta pidiendo dulces. 🍬
Hoy en día Halloween ha evolucionado para convertirse en una festividad culturalmente rica y diversa, celebrada en muchos países de todo el mundo.
• ¿Cuál es el origen de Halloween?
Aunque hay muchos que creen que esta celebración es estadounidense, la realidad es muy diferente. Ya que las verdaderas raíces de Halloween 🎃 se sumergen en las creencias celtas de la antigua Irlanda, Escocia y Gales.
Para los celtas, el 31 de octubre marcaba el final del año y la llegada del Samhain, un festival que celebraba la cosecha y preparaba a la comunidad para el oscuro invierno que se avecinaba.
Durante esa noche del 31, se creía que los espíritus de los muertos regresaban a sus antiguos hogares y que los vivos debían ofrecerles comida 🍲 y refugio para apaciguarlos. En ese momento los límites entre el mundo de los vivos y el reino de los muertos se desvanecía por completo. Si los difuntos eran bien recibidos estos protegían a la familia, sin embargo, si esto no pasaba o eran olvidados se podían volver espiritus vengativos.
Por otro lado, con la llegada del cristianismo, la Iglesia Católica adaptó estas festividades paganas, fusionándolas con la celebración cristiana del Día de Todos los Santos, que honra a los santos y mártires.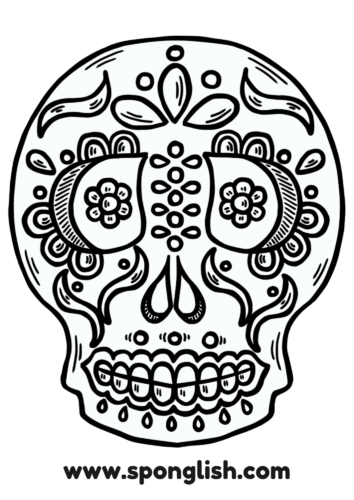 Esta fusión dio lugar a la festividad que conocemos todos hoy en día que es Halloween. Una amalgama de tradiciones paganas y cristianas que ha perdurado a lo largo de los siglos.
En algunas partes del mundo Halloween se transformó en una celebración llena de magia, disfraces y dulces 🍬 para niños, ¿y por qué no? para los no tan niños también. Mientras que en otras partes esta festividad significa una oportunidad valiosa para honrar a sus seres queridos que han fallecido y para recordar que la muerte no marca el final, sino simplemente es un paso más para otro camino.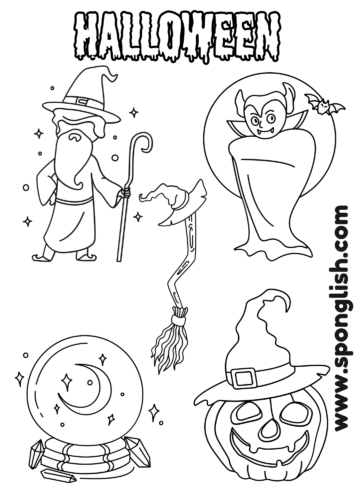 Vocabulario de Halloween en inglés
Ya conocemos el significado y origen de Halloween, ahora llego el momento de aprender todo el vocabulario de Halloween en inglés que traigo para ti.
Sin más que decir ¡comencemos!
» Adjetivos relacionados a Halloween
Partamos nuestro listado de vocabulario de Halloween en inglés con el grupo de los adjetivos, cada uno de ellos con sus respectivas traducciones al español:
1.

Spooky

– Espeluznante/ siniestro
The dark forest looks

spooky

at night.
El bosque oscuro parece

espeluznante

por la noche.
2.

Terrifying

– Aterrador
The

terrifying

movie kept me awake all night.
La película

aterradora

me mantuvo despierto toda la noche.
3.

Creepy

– Tenebroso
The old, abandoned house had a

creepy

atmosphere.
La vieja casa abandonada tenía una atmósfera

tenebrosa.
4.

Macabre

– Macabro (que involucra muerte)
The

macabre

painting depicted scenes of death and decay.
El cuadro

macabro

representaba escenas de muerte y decadencia.
5.

Scary

– Escalofriante
The haunted house was too

scary

for the children to enter.
La casa embrujada era demasiado

aterradora

para que los niños entraran.
6.

Ghostly

– Fantasmagórico
The

ghostly

figure floated silently across the room.
La figura

fantasmal

flotaba silenciosamente por la habitación.
7.

Eerie

– Inquietante
The mansion had an

eerie

atmosphere.
La mansión tenía una atmósfera

inquietante.
8.

Evil

– Diabólico, malvado
The

evil

witch cast a spell on the village, plunging it into darkness and fear.
La

malvada

bruja lanzó un hechizo sobre el pueblo, sumiéndolo en la oscuridad y el miedo.
9.

Mysterious

– Misterioso
The

mysterious

old book was said to hold ancient secrets.
Se decía que el

misterioso

libro antiguo contenía secretos ancestrales.
10.

Chilling

– Escalofriante
The

chilling

sound of footsteps echoed through the empty hallway, causing my heart to race.
El

escalofriante

sonido de pasos resonaba por el pasillo vacío, haciendo que mi corazón latiera rápidamente.
11.

Horrible

– Horripilante
A

horrible

creature emerged from the shadows.
Una criatura

horripilante

emergió de las sombras.
12.

Haunted

– Encantado
The old mansion was

haunted,

and strange, ghostly apparitions were often seen.
La vieja mansión estaba

embrujada

y extrañas apariciones fantasmales eran vistas a menudo.
13.

Gloomy

– Lúgubre, sombría
The

gloomy

room felt cold and unwelcoming.
La habitación

sombría

se sentía fría y poco acogedora.
14.

Cursed

– Maldito
The

cursed

amulet brought misfortune to anyone who possessed it.
El amuleto

maldito

traía desgracia a cualquiera que lo poseyera.
15.

Ghastly

– Horrible, espantoso, horroroso
The

ghastly

crime scene left investigators in shock.
La escena

horrorosa

del crimen dejó a los investigadores en estado de shock.
16.

Dreadful

– Espantoso, terrible
The

dreadful

storm caused widespread destruction in the coastal town.
La tormenta

espantosa

causó una destrucción generalizada en el pueblo costero.
17.

threatening

– Amenazante, siniestro, inquietante, aterrador
The

threatening

growl of the wild animal made me freeze in fear.
El gruñido

amenazante

del animal salvaje me hizo quedarme paralizado de miedo.
18.

Gruesome

– Repugnante, horripilante
The

gruesome

movie scenes made me cover my eyes in fear.
Las escenas

horripilantes

de la película me hicieron cubrir los ojos de miedo.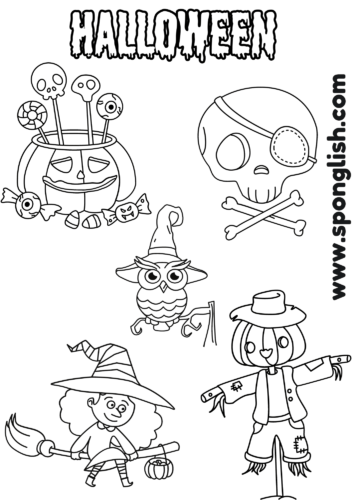 » Verbos relacionados a Halloween en inglés y español
Sigamos nuestro listado de vocabulario de Halloween en inglés con algunos verbos que están relacionados a esta festividad:
1.

Carve

– Tallar (calabazas) 🎃
Every year, we

carve

pumpkins to create spooky jack-o'-lanterns for Halloween.
Cada año,

tallamos

calabazas para crear espeluznantes linternas de Jack-o'-lantern para Halloween.
2.

Decorate

– Decorar
We

decorate

the house with spiderwebs, skeletons, and eerie candles for Halloween.

Decoramos

la casa con telarañas, esqueletos y velas espeluznantes para Halloween.
3.

Trick-or-Treat

– Pedir dulces, pasar de puerta en puerta
Children love to dress up in costumes and go

trick-or-treating

on Halloween night.
A los niños les encanta disfrazarse y salir a

pedir dulces

en Halloween.
4.

Creep

– Arrastrarse
The ghostly figure

crept

silently through the dark hallway.
La figura fantasmal se

deslizó

silenciosamente por el pasillo oscuro.
5.

Howl

– Aullar
The wind

howled

outside, creating an eerie atmosphere inside the haunted house.
El viento

aullaba

afuera, creando una atmósfera espeluznante dentro de la casa embrujada.
6.

Scare

– Asustar
The sudden loud noise

scared

the children at the Halloween party.
El ruido fuerte repentino

asustó

a los niños en la fiesta de Halloween.
7.

Haunt

– Acechar, aparecerse, rondar
The ghost continues to

haunt

the old graveyard, appearing every full moon.
El fantasma sigue

apareciéndose

en el antiguo cementerio, mostrándose cada luna llena.
8.

Dress up

– Disfrazarse
Children love to

dress up

as witches, superheroes, and ghosts for Halloween.
A los niños les encanta

disfrazarse

de brujas, superhéroes y fantasmas para Halloween.
9.

Celebrate

– Celebrar
We

celebrate

Halloween with costume parties, spooky decorations, and lots of delicious treats.

Celebramos

Halloween con fiestas de disfraces, decoraciones espeluznantes y montones de deliciosos dulces.
10.

Illuminate

– Iluminar
The eerie glow of the jack-o'-lanterns

illuminated

the path through the haunted forest.
La luz espeluznante de las linternas de Jack-o'-lantern

iluminaba

el camino a través del bosque embrujado.
11.

Frighten

– Asustar
The sudden appearance of the ghostly figure

frightened

the unsuspecting visitors.
La repentina aparición de la figura fantasmal

asustó

a los visitantes desprevenidos.
12.

Scream

– Gritar
The haunted house was so scary that it made everyone

scream

in terror.
La casa embrujada era tan aterradora que hizo que todos

gritaran

de terror.
13.

Evoke

– Evocar
The eerie music

evoked

a feeling of spookiness in the Halloween party.
La música espeluznante

evocaba

una sensación de miedo en la fiesta de Halloween.
14.

Conjure

– Conjurar
The witch

conjured

a spell, filling the room with a mysterious aura.
La bruja

conjuró

un hechizo, llenando la habitación de una atmósfera misteriosa.
15.

Roam

– Vagar
Ghosts are said to

roam

the old cemetery at night, searching for peace.
Se dice que los fantasmas

deambulan

por el viejo cementerio por la noche, buscando la paz.
16.

Spook

– Espantar
The old, abandoned house always managed to

spook

the neighborhood children.
La vieja casa abandonada siempre lograba

asustar

a los niños del vecindario.
17.

Wander

– Pasear (en contextos tenebrosos)
The ghostly figure seemed to

wander

aimlessly through the halls of the haunted mansion.
La figura fantasmal parecía

deambular

sin rumbo por los pasillos de la mansión embrujada.
18.

Cackle

– Carcajearse (como una bruja)
The wicked witch

cackled

loudly as she brewed her magical potion.
La malvada bruja se

carcajeó

ruidosamente mientras preparaba su poción mágica.
19.

Summon

– Invocar
The sorcerer

summoned

a ghostly presence to haunt the old castle.
El hechicero

invocó

una presencia fantasmal para rondar el viejo castillo.
20.

Lurk

– Acechar, merodear
Shadows seemed to

lurk

in every corner of the spooky mansion, creating an atmosphere of fear.
Las sombras parecían

acechar

en cada rincón de la mansión espeluznante, creando una atmósfera de miedo.
» Monstruos: típicos disfraces de Halloween en inglés
Infaltable los disfraces, es por esto que quise poner en esta lista 20 disfraces de monstruos en inglés y español:
1. Zombie – Zombi 🧟‍♂️
Zombies

are a popular Halloween costume choice.
Los

zombis

son una opción de disfraz popular para Halloween.
2.

Vampire

– Vampiro 🧛‍♂️
Vampires

are often portrayed as elegant and mysterious creatures in Halloween movies.
Los

vampiros

suelen ser retratados como criaturas elegantes y misteriosas en las películas de Halloween.
3.

Werewolf

– Hombre lobo 🐺
Werewolves

are mythical creatures that transform from humans into wolves.
Los

hombres lobo

son criaturas míticas que se transforman de humanos a lobos.
4.

Frankenstein's Monster

– Monstruo de Frankenstein
Frankenstein's monster

, with its green skin and bolts on its neck, is a classic Halloween character.
El

monstruo de Frankenstein

, con su piel verde y pernos en el cuello, es un personaje clásico de Halloween.
5.

Mummy

– Momia
The

mummy

is a popular Halloween decoration, adding a spooky vibe to any haunted house.
La

momia

es una decoración popular de Halloween que añade un ambiente espeluznante a cualquier casa embrujada.
6.

Ghost

– Fantasma 👻
Ghosts

are a classic symbol of Halloween, appearing in spooky stories and haunted houses.
Los

fantasmas

son un símbolo clásico de Halloween, apareciendo en historias espeluznantes y casas embrujadas.
7.

Witch

– Bruja 🧹
Witches

often wear black hats and cast spells during Halloween.
Las

brujas

suelen usar sombreros negros y lanzar hechizos durante Halloween.
8.

Skeleton

– Esqueleto
Skeletons

are spooky symbols of Halloween, often seen in costumes and decorations.
Los

esqueletos

son símbolos espeluznantes de Halloween, a menudo vistos en disfraces y decoraciones.
9.

Demon

– Demonio
Demons

are creatures of darkness often featured in Halloween myths and horror movies.
Los

demonios

son criaturas de la oscuridad que a menudo aparecen en mitos de Halloween y películas de terror.
10.

Goblin

– Duende
Goblins

are mischievous creatures that love to play tricks on Halloween night.
Los

duendes

son criaturas traviesas que les encanta hacer travesuras en la noche de Halloween.
11.

Alien

– Extraterrestre 👽
Aliens

make imaginative Halloween costumes for kids.
Los

alienígenas

son disfraces imaginativos para niños en Halloween.
12.

Monster Clown

– Payaso monstruoso
Monster clowns

wear scary makeup and colorful outfits for Halloween.
Los

payasos monstruoso

usan maquillaje espeluznante y trajes coloridos en Halloween.
13.

Pirate

– Pirata
Pirates

wear hats, eyepatches, and carry swords on Halloween.
Los

piratas

usan sombreros, parches en el ojo y llevan espadas en Halloween.
14.

Superhero

– Superhéroe
Superheroes,

like Batman and Wonder Woman, wear capes and masks, making popular Halloween costumes for kids.
Los

superhéroes,

como Batman y Wonder Woman, usan capas y máscaras, siendo disfraces populares para Halloween en niños.
15.

Princess

– Princesa (aunque no da miedo es un disfraz muy común) 👸
Princesses

wear beautiful dresses and tiaras on Halloween.
Las

princesas

usan vestidos hermosos y tiaras en Halloween.
» Vocabulario de objetos y símbolos de halloween en ingles
Continuemos con 30 objetos y símbolos típicos que puedes encontrar en la noche de Halloween: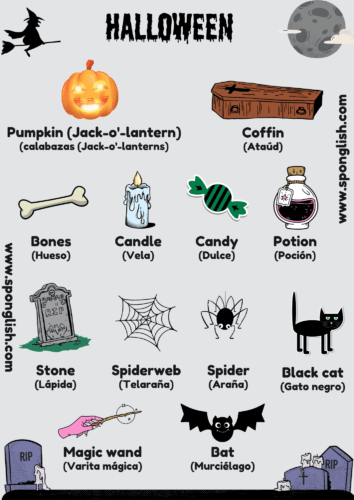 1.

Carved Pumpkin (Jack-o'-lantern)

– Calabaza tallada (Jack-o'-lantern) 🎃
Carved pumpkins, or Jack-o'-lanterns

, have spooky faces and glow with candles on Halloween night.

Las calabazas talladas, o Jack-o'-lanterns

, tienen caras espeluznantes y brillan con velas en la noche de Halloween.
2.

Witch's Broom

– Escoba de bruja 🧹
The

witch's broom

is a common accessory for Halloween costumes.
La

escoba de la bruja

es un accesorio común para los disfraces de Halloween.
3.

Candy (for trick-or-treating)

– Candies (para el juego «truco o trato»)🍬
Candy

is given to children during trick-or-treating on Halloween.
Se les da

dulces

a los niños durante el truco o trato en Halloween.
4.

Bat

– Murciélago 🦇
Bats

are nocturnal creatures and are often associated with Halloween due to their spooky appearance and behavior.
Los

murciélagos

son criaturas nocturnas y a menudo se asocian con Halloween debido a su apariencia y comportamiento espeluznante.
5.

Candles

– Velas 🕯️
Candles

are lit for Halloween decorations.
Se encienden

velas

para las decoraciones de Halloween.
6.

Spiders and Spider Webs

– Arañas y telarañas 🕷️🕸️
Spiders and spider webs

are spooky symbols of Halloween.

Las arañas y las telarañas

son símbolos espeluznantes de Halloween.
7.

Bones

– Huesos
The Halloween decorations included fake

bones

scattered around the yard.
Las decoraciones de Halloween incluían

huesos

falsos esparcidos por el patio.
8.

Black Cats

– Gatos negros
Black cats

are often associated with superstitions and witchcraft.
Los

gatos negros

son a menudo asociados con supersticiones y brujería.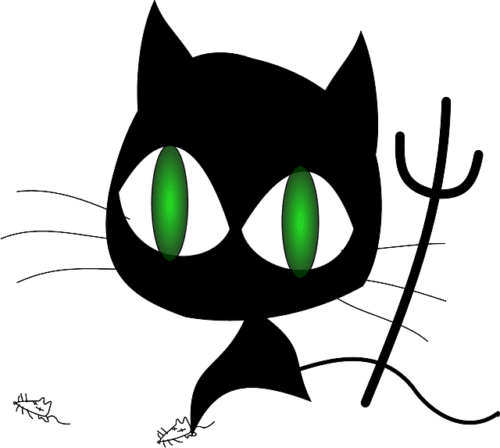 9.

Cauldron

– Caldero
The

cauldron

bubbled with a mysterious potion.
El

caldero

burbujeaba con una poción misteriosa.
10. Crystal Ball – Bola de cristal
The fortune teller gazed into her

crystal ball

, predicting spooky futures for Halloween visitors.
La adivina miró su

bola de cristal

, prediciendo futuros espeluznantes para los visitantes de Halloween.
11.

Dagger

– Daga
The witch held a

dagger

as she prepared her spells, adding an element of mystery to her rituals.
La bruja sostenía una

daga

mientras preparaba sus hechizos, añadiendo un elemento de misterio a sus rituales.
12.

Magic Mirror

– Espejo mágico
The

magic mirror

revealed eerie visions creatures and haunted places.
El

espejo mágico

reveló visiones espeluznantes de criaturas y lugares embrujados.
13.

Skull

– Cráneo 💀
Skulls

are common decorations during Halloween, often used to create a spooky ambiance.
Los

cráneos

son decoraciones comunes en Halloween, a menudo utilizados para crear un ambiente espeluznante.
14. Witch's Shoes – Zapatos de bruja
Witch's Shoes

are an essential accessory for Halloween costumes, adding a spooky and stylish touch to any witch outfit
Los

zapatos de bruja

son un accesorio esencial para los disfraces de Halloween, añadiendo un toque espeluznante y elegante a cualquier atuendo de bruja.
15.

Pointy Hat

– Sombrero puntiagudo
The witch wore a

pointy hat

adorned with a spooky buckle as part of her Halloween costume.
La bruja llevaba un

sombrero puntiagudo

adornado con una hebilla espeluznante como parte de su disfraz de Halloween.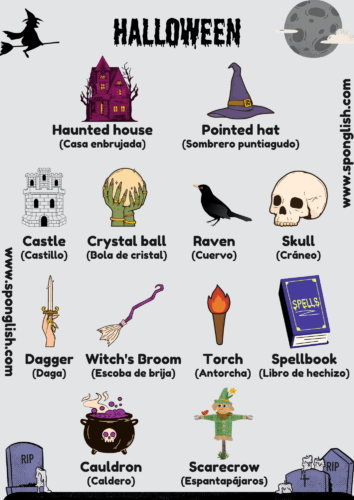 16.

Potions

– Pócimas
Potions

are essential for witches' spells during Halloween.
Las

pociones

son esenciales para los hechizos de las brujas durante Halloween.
17.

Spellbook

– Libro de hechizos 📖
The

spellbook

contained magical recipes for Halloween spells.
El

libro de hechizos

contenía recetas mágicas para los hechizos de Halloween.
18.

Owls

– Búhos
Owls

are often associated with Halloween due to their nocturnal nature and mysterious hoots in the night.
Los

búhos

a menudo se asocian con Halloween debido a su naturaleza nocturna y sus misteriosos ululatos en la noche.
19.

Shackles

– Cadena con grilletes
The old

shackles,

covered in cobwebs, became an eerie decoration for Halloween.
Las viejas

esposas,

cubiertas de telarañas, se convirtieron en una decoración espeluznante para Halloween.
20.

Scarecrow

– Espantapájaros
The

scarecrow

stood tall in the pumpkin patch, guarding the fields on Halloween night.
El

espantapájaros

se erguía alto en la plantación de calabazas, protegiendo los campos en la noche de Halloween.
21.

Raven

– Cuervo
The

raven

perched on the fence, its dark feathers glistening in the moonlight.
El

cuervo

se posó en la cerca, sus plumas oscuras brillaban a la luz de la luna.
22.

Castle

– Castillo 🏰
The

castle

looked eerie on Halloween night.
El

castillo

parecía espeluznante en la noche de Halloween.
23.

Coffin

– Ataúd
The

coffin

sat in the corner, adding a creepy touch to the decorations.
El

ataúd

estaba en la esquina, añadiendo un toque espeluznante a las decoraciones.
24.

Inverted Cross

– Cruz invertida
An

inverted cross

was part of the Halloween decorations.
Una

cruz invertida

era parte de las decoraciones de Halloween.
25.

Torch

– Antorcha
Torches

lit the path for trick-or-treaters on Halloween.
Las

antorchas

iluminaban el camino para los niños que pedían dulces en Halloween.
26.

Graveyard

– Cementerio
The

graveyard

looked spooky under the full moon.
El

cementerio

se veía espeluznante bajo la luna llena.
27.

Grave

– Tumba
The

grave

was adorned with wilted flowers.
La

tumba

estaba adornada con flores marchitas.
28.

Tombstone

– Lápida
The

tombstone

had a haunting inscription, setting the tone for a spooky Halloween tale.
La

lápida

tenía una inscripción espeluznante, marcando el tono para un relato de Halloween escalofriante.
29.

Haunted House

– Casa encantada
The

haunted house

creaked and groaned, adding to the eerie ambiance.
La

casa embrujada

crujía y gemía, sumándose a la atmósfera espeluznante.
30.

Magic wand

– Varita mágica
With a wave of her

magic wand

, the witch cast spells.
Con un movimiento de su

varita mágica,

la bruja lanzó hechizos.
» Comida típica de halloween
Ya casi estamos terminando, a continuación veamos una lista con de comidas típicas que podrás encontrar en Halloween en inglés y español: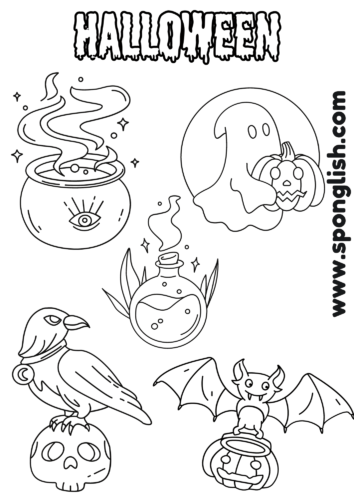 1. Candy – Dulces 🍬
Children love to collect colorful

candies

in their bags.
A los niños les encanta recolectar

dulces

coloridos en sus bolsas
2.

Caramel Apples

– Manzanas cubiertas de caramelo
Caramel apples

are a popular Halloween treat, with their sweet, sticky coating and crunchy apple inside.
Las

manzanas cubiertas de caramelo

son un dulce popular de Halloween, con su capa dulce y pegajosa y la manzana crujiente en su interior.
3.

Popcorn Balls

– Bolitas de palomitas de maíz
Popcorn balls

are sweet treats enjoyed by kids during Halloween.
Las

bolitas de palomitas

son dulces que disfrutan los niños en Halloween.
4.

Pumpkin Pie

– Tarta de calabaza
Pumpkin pie

is a traditional dessert, known for its delicious spiced pumpkin filling and flaky crust.
La

tarta de calabaza

es un postre tradicional, conocida por su delicioso relleno de calabaza condimentada y su masa hojaldrada.
5.

Roasted Pumpkin Seeds

– Semillas de calabaza asadas
Roasted pumpkin seeds

are a crunchy and flavorful snack, often sprinkled with salt or spices for an extra kick.
Las

semillas de calabaza asadas

son un bocadillo crujiente y sabroso, a menudo espolvoreadas con sal o especias para darle un toque adicional.
6.

Halloween Cookies

– Galletas de Halloween
Halloween cookies

come in various spooky shapes and are decorated with colorful icing, making them a delightful treat during the season.
Las

galletas de Halloween

vienen en diversas formas espeluznantes y están decoradas con glaseado de colores, convirtiéndolas en una deliciosa golosina durante la temporada.
7.

Witch's Brew Punch

– Ponche de la bruja
Witch's Brew Punch

is a bewitching Halloween drink made with a mix of fruit juices and soda, often served with floating sherbet for a spooky touch.
El

Ponche de Bruja

es una bebida embrujada de Halloween hecha con una mezcla de jugos de frutas y refresco, a menudo se sirve con helado flotante para un toque espeluznante.
8.

Eyeball Tacos

– Tacos de ojo humano
Eyeball tacos

are a creepy Halloween dish made with meatballs, cheese, and olives, resembling spooky eyeballs peeking out of taco shells.
Los

tacos de ojo

son un plato espeluznante de Halloween hechos con albóndigas, queso y aceitunas, pareciendo ojos espeluznantes asomando desde las conchas de taco.
9.

Mummy Hot Dogs

– Perros calientes momia
Mummy hot dogs

are a fun and spooky Halloween snack made by wrapping hot dogs with strips of crescent roll dough to resemble mummies, with mustard or ketchup for eyes.
Los

perritos calientes momia

son una merienda divertida y espeluznante de Halloween hecha envolviendo salchichas con tiras de masa de hojaldre para parecerse a momias, con mostaza o kétchup para los ojos.
10.

Spiderweb Cupcakes

– Cupcakes de telaraña
Spiderweb cupcakes

are Halloween-themed treats featuring black icing spun in a spiderweb pattern on top of vanilla or chocolate cupcakes, often adorned with a plastic spider for an extra creepy touch.
Los

cupcakes de telaraña

son dulces temáticos de Halloween que presentan un glaseado negro en un patrón de telaraña sobre cupcakes de vainilla o chocolate, a menudo decorados con una araña de plástico para un toque espeluznante adicional.
11.

Wormy Jelly

– Gelatina de gusanos
Wormy jelly

is a Halloween treat made with gummy worms and gelatin.
La

gelatina de gusanos

es un dulce de Halloween hecho con gomitas de gusanos y gelatina.
12.

Ghost-shaped Marshmallows

– Malvaviscos en forma de fantasma
Ghost-shaped marshmallows

are fluffy and sweet treats perfect for Halloween, often used in hot chocolate or as toppings for desserts.
Los

malvaviscos en forma de fantasmas

son dulces y esponjosos, ideales para Halloween, y a menudo se usan en chocolate caliente o como cobertura para postres.
13.

Candy Corn

– Maíz de caramelo/dulce
Candy corn

is a popular Halloween candy with its iconic yellow, orange, and white tri-colored kernels, enjoy them.
El

maíz dulce

es un dulce popular de Halloween con sus icónicos granos tricolores amarillos, naranjas y blancos, disfrutalos.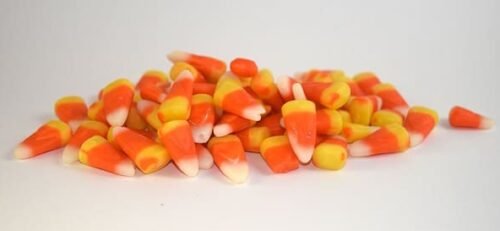 14.

Witch Finger Pretzel Rods

– Palitos de pretzel en forma de dedo de bruja
Witch finger pretzel rods

are a spooky Halloween snack made by dipping pretzel rods in green-colored chocolate and adding almond slices as «nails,» creating a witchy finger appearance.
Los

palitos de pretzel en forma de dedos de bruja

son una merienda espeluznante de Halloween hecha sumergiendo palitos de pretzel en chocolate de color verde y agregando almendras como «uñas», creando la apariencia de dedos de bruja.
15.

Deviled Eggs with Olive Spiders

– Huevos rellenos con arañas de aceitunas
Deviled eggs with olive spiders

are a spooky Halloween dish where deviled eggs are decorated with black olive slices to resemble spiders, giving a creepy and fun twist to a classic appetizer.
Los

huevos rellenos con arañas de aceituna

son un plato espeluznante de Halloween en el cual los huevos rellenos se decoran con rodajas de aceitunas negras para parecer arañas, dándole un toque espeluznante y divertido a un aperitivo clásico.
16.

Cauldron Cake

– Pastel de caldero
Cauldron cakes

are Halloween desserts shaped like cauldrons, often made with chocolate cake, filled with creamy frosting, and decorated with spooky designs, creating a bewitching sweet treat.
Los

pasteles de caldero

son postres de Halloween con forma de calderos, a menudo hechos con pastel de chocolate, rellenos de crema y decorados con diseños espeluznantes, creando un dulce encantador y delicioso.
17.

Moldy Cheese Balls

– Bolas de queso con aspecto de moho
Moldy cheese balls

are a creepy Halloween appetizer made by coating cheese balls in crushed nuts or herbs to resemble mold.
Las

bolitas de queso mohosas

son un aperitivo espeluznante de Halloween hechas cubriendo bolitas de queso con nueces trituradas o hierbas para parecer moho.
18.

Ghoulish Punch

– Ponche espeluznante
Ghoulish punch

is a spooky Halloween beverage made by mixing fruit juices and soda, often with floating sherbet or eerie ice cubes, creating a chilling and refreshing drink for the haunted celebration.
El

ponche espeluznante

es una bebida de Halloween hecha mezclando jugos de frutas y refresco, a menudo con helado flotante o cubitos de hielo misteriosos, creando una bebida fresca y escalofriante para la celebración embrujada.
19.

Vampire Donuts

– Donas de vampiro
Vampire donuts

are Halloween treats shaped like vampire fangs, often filled with red raspberry jam or strawberry sauce to resemble blood, making them a delightfully spooky and sweet snack.
Las

donuts de vampiro

son golosinas de Halloween con forma de colmillos de vampiro, a menudo rellenos de mermelada de frambuesa roja o salsa de fresa para parecer sangre, convirtiéndolos en un bocado deliciosamente espeluznante y dulce.
20.

Zombie Brain Dip

– Dip de cerebro de zombi
Zombie brain dip

is a gory Halloween appetizer made with cream cheese, spinach, and artichoke hearts blended together to create a brain-like texture. Served with crackers or bread, it's a spooky and delicious snack.
La

salsa de cerebro de zombi

es un aperitivo sangriento de Halloween hecho con queso crema, espinacas y corazones de alcachofa mezclados para crear una textura similar a un cerebro. Se sirve con galletas o pan y es un bocadillo espeluznante y delicioso.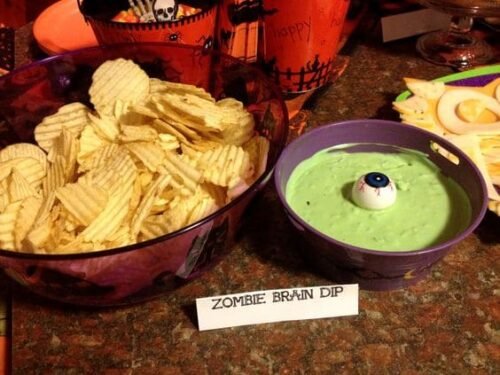 Frases típicas en Halloween
Lo último, en el listado de vocabulario de Halloween en inglés, será ver algunas frases típicas de Halloween en inglés y su traducción al español:
1. Trick or treat! – ¡Truco o trato!
2. Happy Halloween! – ¡Feliz Halloween!
3. Boo! – ¡Uuuh!
4. Creep it real. – Mantén la autenticidad.
5. Witching you a spooktacular Halloween! – ¡Te deseo un Halloween espectacular!
6. Ghouls just wanna have fun. – Los fantasmas solo quieren divertirse.
7. Eat, drink, and be scary! – ¡Come, bebe y asústate!
8. Let the ghoul times roll! – ¡Que empiecen los tiempos espeluznantes!
9. Tricks and treats and lots of sweets. – Trucos y dulces y montones de golosinas.
10. Fangs for the memories. – Gracias por los recuerdos. (Fangs = colmillos)
11. Keep calm and scare on. – Mantén la calma y sigue asustando.
12. Just witchful thinking. – Solo un pensamiento de bruja.
13. Have a fang-tastic Halloween! – ¡Ten un Halloween fantástico!
14. Broom parking – all others will be toad. – Estacionamiento de escobas – los demás serán sapos.
15. Boo to you from our crew! – ¡Uuuh para ti de nuestra pandilla!
16. Caution! Witch crossing. – ¡Precaución! Cruce de brujas.
17. Keep calm and carry a wand. – Mantén la calma y lleva una varita.
18. Double, double, toil and trouble, fire burn and cauldron bubble. – Doble, doble, trabajo y problemas, fuego arde y caldero burbujea.
19. Witch better have my candy. – Bruja, mejor ten mi dulce.
20. Trick or tequila! – ¡Truco o tequila!
---
Espero que estas frases te sean útiles para tu celebración. Todo este vocabulario de Halloween en inglés fue pensado especialmente para ti. ¡Sal, diviértete y que tengas un Halloween espeluznante!
Happy Halloween! 👻