Hoy te traje una selección única de 70 frases motivadoras en inglés con su traducción al español. Y es que en el viaje de la vida, encontramos momentos en los que buscamos inspiración para alcanzar nuestros sueños y superar los desafíos.
¿Qué mejor manera de encender esa chispa interna que sumergirse en un océano de palabras poderosas y motivadoras?
En este artículo, exploraremos una recopilación de 70 frases motivadoras en inglés que te llevarán a descubrir un mundo de fortaleza, determinación y éxito. Desde los sabios consejos de visionarios hasta las palabras alentadoras de grandes líderes, prepárate para sumergirte en la energía y la fuerza que estas frases inspiradoras te brindarán en cada paso de tu camino.
¡Es hora de dejar que estas poderosas palabras guíen tu camino hacia la grandeza y la realización de tus más grandes aspiraciones!
70 frases de motivación en inglés y español
Prepárate para dejarte envolver y descubrir cómo una simple combinación de palabras puede tener un impacto duradero en tu vida:
1. «It takes time to achieve something, don't be discouraged.»

«Se necesita tiempo para lograr algo, no te desanimes«
– Desconocido
2. «Believe you can and you're halfway there.»

«Cree que puedes y estarás a medio camino«
– Theodore Roosevelt
3. «The hard days are what

make

you stronger.»

«Los días difíciles son lo que te hacen más fuerte«
– Aly Raisman
4. «Don't watch the clock; do what it does. Keep going.»

«No mires el reloj; haz lo que hace. Sigue adelante«
– Sam Levinson
5. «The future belongs to those who believe in the beauty of their dreams.»

«El futuro pertenece a aquellos que creen en la belleza de sus sueños«
– Eleanor Roosevelt
6. «Success is not final, failure is not fatal: It is the courage to continue that counts.»

«El éxito no es definitivo, el fracaso no es fatal: es el coraje para continuar lo que cuenta«
– Winston Churchill
7. «The best way to predict the future is to create it.»

«La mejor manera de predecir el futuro es crearlo«
– Peter Drucker
8. «In a gentle way, you can shake the world.»

«De una manera suave, puedes sacudir el mundo«
– Mahatma Gandhi
9. «Hardships often prepare ordinary people for an extraordinary destiny.»

«Las adversidades preparan a las personas comunes para un destino extraordinario«
10. «Your time is limited, don't

waste

it living someone else's life.»

«Tu tiempo es limitado, no lo malgastes viviendo la vida de otro«
10 frases inspiradoras más en inglés
Ya vimos las primeras frases, vamos por más:
11. «Don't be afraid to give up the good to go for the great.»

«No tengas miedo de renunciar a lo bueno para perseguir lo grandioso«
– John D. Rockefeller
12. «Never give up. Today is hard, tomorrow will be worse, but the day after tomorrow will be sunshine.»

«Nunca te rindas. Hoy es difícil, mañana será peor, pero pasado mañana saldrá el sol.«
– Jack Ma
13. «In the middle of difficulty lies opportunity.»

«En medio de la dificultad yace la oportunidad«
14. «If opportunity doesn't knock, build a door.»

«Si la oportunidad no toca, construye una puerta»
– Milton Berle
15. «The only limit to our realization of tomorrow will be our doubts of today.»

«El único límite para la realización de mañana serán nuestras dudas de hoy»
– Franklin D. Roosevelt
16. «Success is walking from failure to failure with no loss of enthusiasm.»

«El éxito es caminar de fracaso en fracaso sin perder el entusiasmo«
– Winston Churchill
17. «You miss 100% of the shots you don't take.»

«Pierdes el 100% de los tiros que no intentas»
– Wayne Gretzky
18. «Your life does not get better by chance, it gets better by change.»

«Tu vida no mejora por casualidad, mejora por cambio»
– Jim Rohn
19. «Don't wait for the perfect moment. Take the moment and make it perfect.»

«No esperes el momento perfecto. Toma el momento y hazlo perfecto»
– Tony Robbins
20. «The only person you are destined to become is the person you decide to be.»

«La única persona que estás destinado a ser es la persona que decides ser«
– Ralph Waldo Emerson
Continuamos el listado de frases en inglés
Aún no estamos ni a la mitad, sigamos con más frases motivadoras en inglés:
21. «Nothing is impossible, the word itself says: I'm possible!»

«Nada es imposible, la misma palabra dice: ¡Soy posible!»
– Audrey Hepburn
22. «If not us, who? If not now, when?.»

«Si no somos nosotros, ¿quién? Si no es ahora, ¿cuándo?»
– John F. Kennedy
23. «Nothing can dim the light that shines from within»

«Nada puede reducir la luz que brilla desde el interior»
– Maya Angelou
24. «If you don't like the road you're walking, start paving another one.»

«Si no te gusta el camino por donde vas, comienza a pavimentar otro«
– Dolly Parton
25. «Every great dream begins with a dreamer.»

«Cada gran sueño comienza con un soñador«
– Harriet Tubman
26. «The biggest adventure you can ever take is to live the life of your dreams.»

«La mayor aventura que puedes emprender es vivir la vida de tus sueños«
– Oprah Winfrey
27. «Your time is now. Start where you stand and never back down.»

«Tu momento es ahora. Comienza donde estás y nunca retrocedas«
– Roy T. Bennett
28. «Impossible is for the unwilling.»

«Imposible es para los que no quieren»
– John Keats
29. «Keep going, keep growing.»

«Sigue adelante, sigue creciendo»
– Desconocido
30. «Your only limit is you.»

«Tu único límite eres tú»
– Desconocido
Motivate con frases en inglés
Ya que estamos casi a la mitad, continuemos con 10 frases motivadoras en inglés más:
31. «Make each day your masterpiece.

«

«Haz de cada día tu obra maestra«
– John Wooden
32. «Don't wish for it. Work for it.»

«No lo desees. Trabaja por ello»
– Desconocido
33. «You don't have to be perfect to be amazing.»

«No tienes que ser perfecta/o para ser asombrosa/o»
– John Wooden
34. «You never know what you can do until you try.»

«Nunca sabes lo que puedes hacer hasta que lo intentas»
– William Cobbett
35. «When it rains look for rainbows, when it's dark look for stars.»

«Cuando llueva busca el arcoíris, cuando esté oscuro busca las estrellas«
– Oscar Wilde
36. «Stop being afraid of what could go wrong, and start being excited of what could go right.»

«Deja de tener miedo por lo que podría salir mal, y comienza a emocionarte por lo que podría salir bien.»
– Tony Robbins
37. «Eighty percent of success is showing up.»

«El 80% del éxito es aparecer»

– Woody Allen
38. «Always turn a negative situation into a positive situation.»

«Convierte siempre una situación negativa en una positiva.»
– Michael Jordan
39. «The creation of a thousand forests is in one acorn.»

«La creación de miles de bosques está en una bellota«
– Ralph Waldo Emerson
40. «All progress takes place outside the comfort zone.»

«El progreso se encuentra fuera de la zona de confort.«
– Desconocido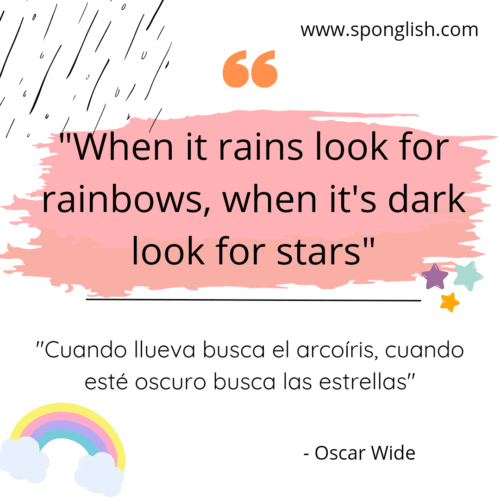 Vamos con 10 frases más
Sigamos nuestro este listado:
41. «Always do your best. What you plant now, you will harvest tomorrow.»

«Siempre haz lo mejor. Lo que plantas ahora, lo cosecharás mañana«
– Og Mandino
42. «It 's always too early to quit.»

«Siempre es demasiado pronto para rendirse.»
– Normant Vincent Peale
43. «With pain comes strength»

«Con el dolor llega la fuerza«
– Desconocido
44. «It's worth a shot.»

«Merece la pena intentarlo.»
– Desconocido
45. «Believe in yourself and all that you are. Know that there is something inside you that is greater than any obstacle»

«Cree en ti mismo y en todo lo que eres. Reconoce que hay algo dentro de ti que es más grande que cualquier obstáculo»
– Christian D. Larson
46. «Success is not the key to happiness. Happiness is the key to success. If you love what you are doing, you will be successful.»

«El éxito no es la clave de la felicidad. La felicidad es la clave del éxito. Si amas lo que estás haciendo, serás exitoso.»
– Albert Schweitzer
47. «You are never too old to set another goal or to dream a new dream.»

«Nunca eres demasiado mayor para fijarte una nueva meta o soñar un nuevo sueño«
– C.S. Lewis
48. «The only thing standing between you and your goal is the story you keep telling yourself as to why you can't achieve it.»

«Lo único que se interpone entre tú y tu meta es la historia que te sigues contando sobre por qué no puedes alcanzarla»
– Jordan Belfort.
49. «If you can dream it, you can do it.»

«Si puedes soñarlo, puedes hacerlo»
– Walt Disney
50. «Believe in yourself, keep fighting.»

«Cree en ti mismo, sigue luchando«
– Desconocido
Continuemos el listado con 10 frases más
Ya estamos casi llegando al final, veamos a continuación 10 frases motivadoras en inglés más:
51. «You will see it, when you believe it!»

«¡Lo verás, cuando lo creas!«
– Wayne Dyer
52. «Don't let the noise of others' opinions drown out your own inner voice.»

«No dejes que el ruido de las opiniones de los demás ahogue tu propia voz»
– Steve Jobs
53. «Impossible is nothing!»

«¡Nada es imposible!»
– Muhammed Ali
54. «Mistakes are the proof that you are trying.»

«Los errores son una prueba de que lo estás intentando.»
– Jennifer Lim
55. «The key to success is to start before you're ready.»

«La clave del éxito es comenzar antes de estar listo»
– Marie Forleo
56. «Everything you can imagine is real.»

«Todo lo que puedes imaginar es real.»
– Pablo Picasso
57. «Genius is 1% inspiration and 99% perspiration»

«El genio es 1% de inspiración y 99% de transpiración»
– Thomas Alva Edison
58. «Quitters never win. Winners never quit!.»

«Los que renuncian nunca ganan. ¡Los ganadores nunca renuncian!»
– Vince Lombardi
59. «Never give up on a dream just because of the time it will take to accomplish it. The time will pass anyway.»

«Nunca renuncies a un sueño solo por el tiempo que tomará lograrlo. El tiempo pasará de todos modos.«
– Earl Nightingale
60. «Work hard in silence, let your success be the noise.»

«

Trabaja duro en silencio, deja que tu éxito sea el ruido»

– Frank Ocean
Últimas frases en inglés
Llegamos al final del listado. Ahora veremos las últimas 10 frases motivadoras en inglés:
61. «If people are doubting how far you can go, go so far that you can't hear them anymore.»

«Si la gente está dudando qué tan lejos puedes llegar, llega tan lejos que ya no los puedas escuchar«
– Michele Ruiz
62. «Winners are not those who never fail, but those who never quit.»

«Los ganadores no son aquellos que nunca fracasan, sino aquellos que nunca se rinden«
– Edwin Louis Cole
63. «Just one small positive thought in the morning can change your whole day.«

«Un pequeño pensamiento positivo en la mañana puede cambiar todo tu día»
– Dalai Lama
64. «Aim for the moon. If you miss, you may hit a star.»

«Apunta a la luna. Si fallas, podrías darle a una estrella.»
– W. Clement Stone
65. «Never regret anything that made you smile.»

«Nunca te arrepientas de lo que te haga sonreír«
– Mark Twain
66. «Hold the vision, trust the process.»

«

Mantén tu visión, confía en el proceso

.»

– Desconocido
67. «Failure is simply the opportunity to begin again, this time more intelligently.»

«El fracaso es simplemente la oportunidad de empezar de nuevo, esta vez de forma más inteligente.»

– Henry Ford
68. «Let your smile change the world, but don't let the world change your smile!.»

«Deja que tu sonrisa cambie el mundo, ¡pero no dejes que el mundo cambie tu sonrisa!»
– Desconocido
69. «The most important thing is to enjoy your life – to be happy. It's all that matter.»

«Lo más importante en la vida es disfrutarla – ser feliz – es lo que importa«
– Audrey Hepburn
70. «You don't need to see the whole staircase, just take the first step.»

«No es necesario que veas toda la escalera, solo da el primer paso»
– Martin Luther King Jr
---
Espero que estas 70 citas de frases motivadoras en inglés te inspiren y te motiven a seguir adelante en tus proyectos y metas. ¡Nunca dejes de creer en ti mismo!